hainen
I can't begin to describe the energy and sensation playing Tan Dun's Nu Shu with Yannick conducting The Philadelphia Orchestra this past Thursday night in Beijing. Here is an article from the Philadelphia Inquirer. Changsha, Tan's hometown, is next!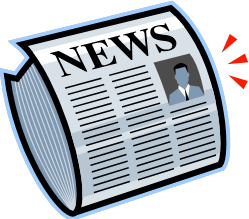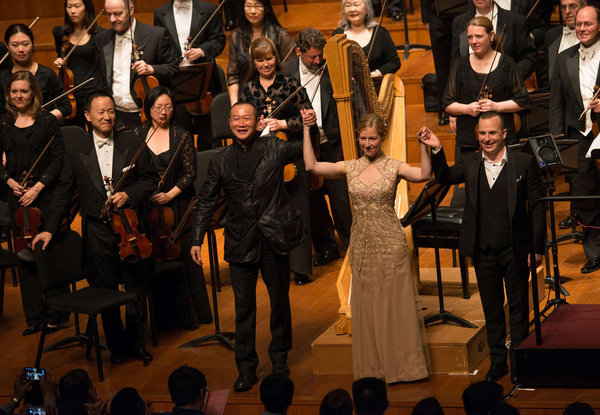 This was such an exciting event! Tan Dun and I visited the Beijing Central Conservatory for a presentation of Nu Shu. There were so many students that wanted to see and hear Tan that they had to sit ON the stage! What a thrill to share the floor with a total rock star.
Now that Christmas is behind me I'm getting organized for 2014. Join me for a Les Amis CD Release Performance Party at Etcetera Etcetera Thursday January 9, 2014 at 8 PM! Not only is Daniele Kucera the most dashing restauranteur in NYC but he hosts some incredible cabaret performances on the second floor of his Contemporary Italian-based cuisine establishment. I will be joined by AMAZING musicians, including IRIS Orchestra members from the Les Amis recording: Miho Saegusa and Kristin Lee, violins, Angela Pickett, viola and Eric Stephenson, cello. This will also be my first time collaborating with Elisabeth Hayes, our charming récitant, who will be reading Edgar Allen Poe's Mask of the Red Death. And just to wet your appetite here is one of my favorite dishes at Etc, Etc: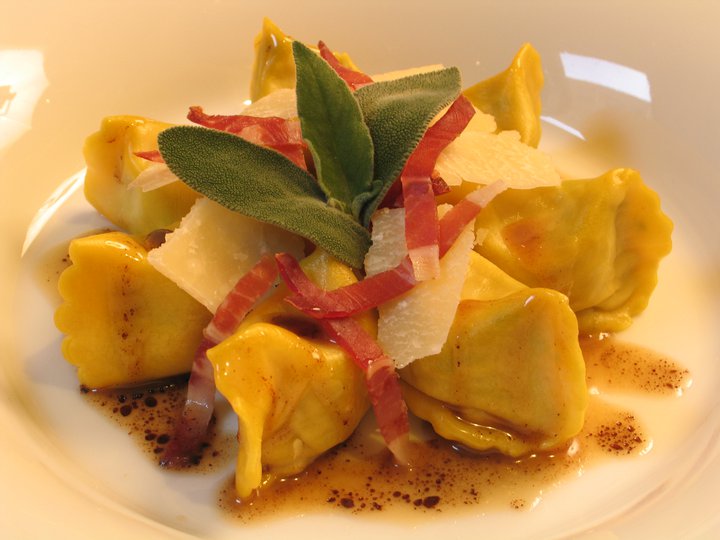 Instead of gobbling up stupid Black Friday stuff, I decided to give back to my Lyra Society Kids. I am so grateful for those that give graciously to many of my causes, but I thought it was worth it to see if anyone has some spare change today until MIDNIGHT! Lets get another student to PLUCK a STRING!
Live Connections
is presenting me at the
World Cafe Live
 in a Halloween-inspired program. My colleagues from The Philadelphia Orchestra: William Polk, Amy Oshiro, Anna Marie Petersen and Yumi Kendall, will join me in the spine-chilling music of André Caplet, 
La masque de la mort rouge (The Mask of the Red Death). 
We will be honored with an appearance by Charlotte Blake who will narrate the Edgar Allen Poe story of which this composition was inspired. The best part is you get brunch while you listen! "Its not quite breakfast and its not quite lunch. And at the end you get a slice of cantaloupe." 
(The Simpsons)
http://tickets.worldcafelive.com/event/324353-elizabeth-hainen-philadelphia/
A Message from Yannick Nézet-Séguin:
"The Philadelphia Orchestra family is profoundly saddened to hear of the death of its beloved former music director, Conductor Laureate, Wolfgang Sawallisch. During his ten-year tenure as music director he cared deeply for the Orchestra and its musicians, helped preserve and nurture our Philadelphia Sound, and enriched and expanded upon the Orchestra's century-old tradition of excellence, leaving us an enduring legacy of artistic achievements. Off the podium he was also a dear friend to many in the Orchestra and in the Philadelphia community. He has been missed, and his memory will be treasured."
Maestro Sawallisch was the single most important musical force in my life. Thank you Maestro for giving me the opportunity to play with The Philadelphia Orchestra, the greatest orchestra in the world. Elizabeth Hainen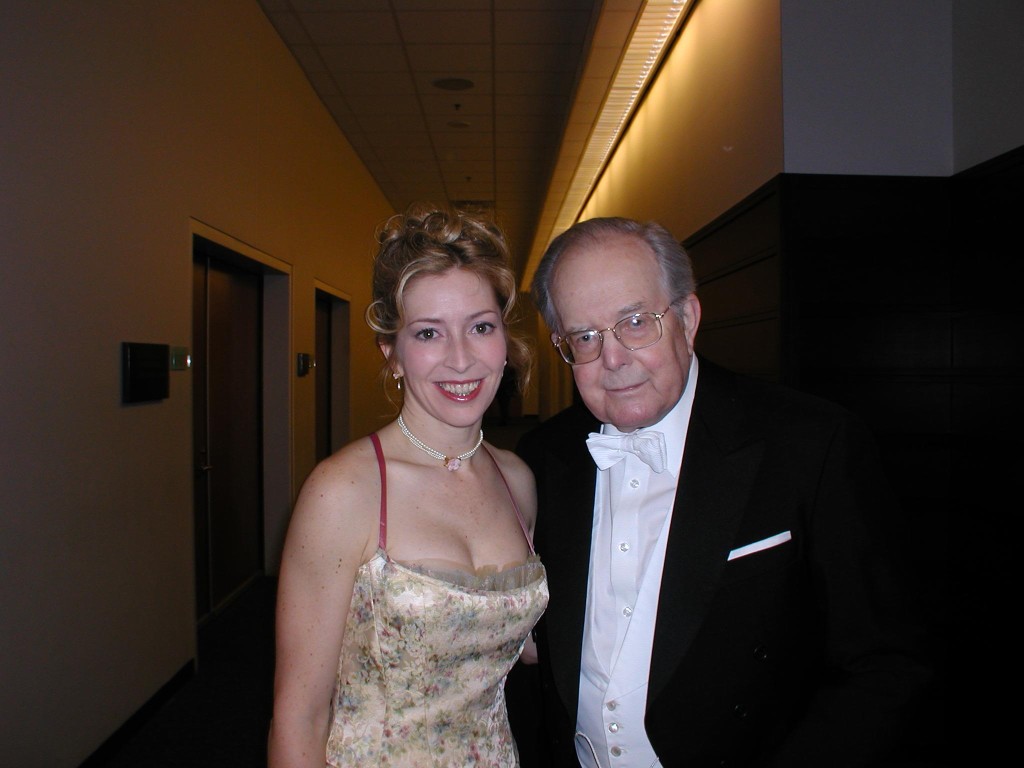 I am delighted to announce that Da-Hong Seetoo, Grammy Award-winning producer and engineer, will be joining Michael Stern and IRIS Orchestra for our upcoming recording. Da-Hong was suggested to me by Jeffrey Khaner who collaborated on his last couple recordings. Unbeknownst to me, Da-Hong has been connected to me for some time through my husband, David DePeters. Michael, David, Roberto Diaz and Da-Hong all went to Curtis together, probably making Mr. Delancey's life a living hell.
Check out this interview with Da-Hong for his story from Shanghai to Curtis to Juilliard to recording for Deutsche Grammophon. http://www.enjoythemusic.com/superioraudio/guiltypleasures/0904/
Also, a photo of our upcoming tour guest conductor, Maestro Rafael Frühbeck de Burgos. He reminds me what a privilege it is to make great music onstage with The Philadelphia Orchestra.
Merry Christmas, Joyeux Noel and Feliz Navidad! We just finished three outstanding performances at The Philadelphia Orchestra with Bramwell Tovey, conductor-pianist, comedian, musician extraordinaire. Each night we waited in eager anticipation for Maestro Tovey's ad lib expertise. One of my favorite quotes: "a flugelhorn is what trumpet players prefer when they need to be musical." Outstanding solo by Jeffrey Curnow in Silent Night! It takes a unique individual to bring inspiration to carols and music we play every year at "Glorious Sounds of Christmas," but with Bramwell, the Hallelujah Chorus and every person standing in the Kimmel Center, brought tears to my eyes.
And now, a Holiday Thank YOU to all of my friends, family and supporters who donated to my Kickstarter project Les Amis: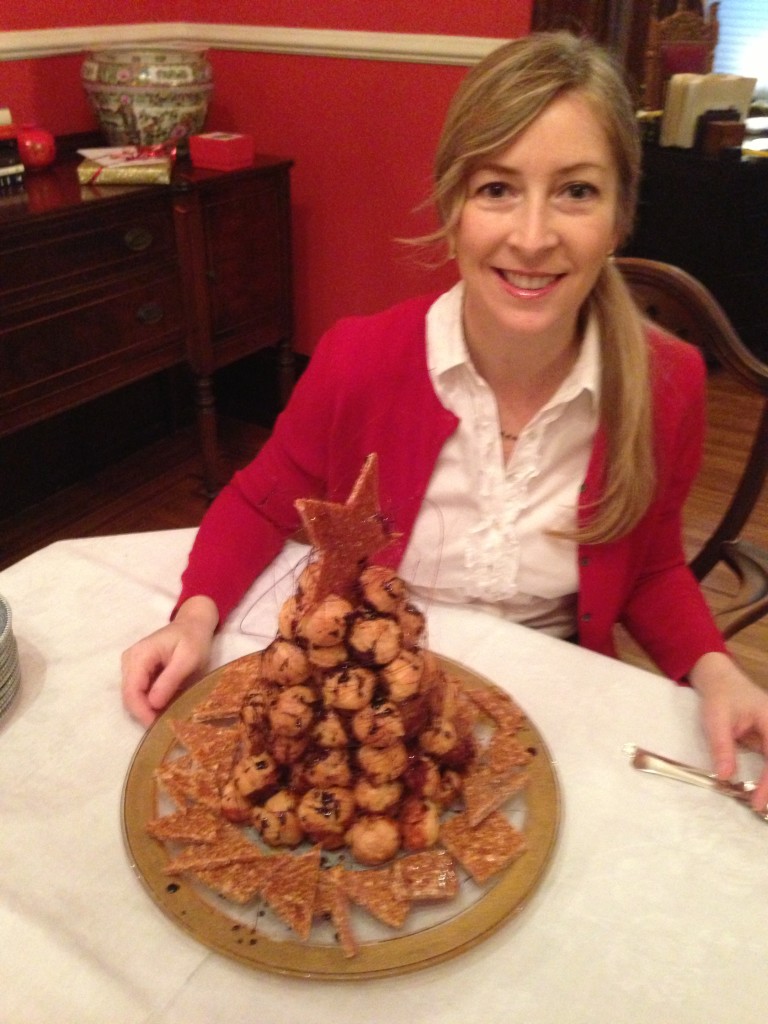 Naomi & Ken Steiner, Edie Elkan, Peter and Mary Lee Formanek, Carole & Lee Gravagno, Sandy & David Marshall, Susie & Norm Robinson, Elia Buck, Jim & Sharon Hourihan, Elenor Baer, Milton Scha
effer, Elizabeth Masoudnia, Stuart & Ellin Hirsch, David and Linda Rollo, Marilyn Wright, Harry Klein, Elisabeth Braun, Cookie & Gerhard, Susann McDonald, Judy Hainen, Rebecca Bogers, Stephanie Sussmeier, Maria Hesse, Ruth Lan
dis Hunter, Heidi Frederick, Frederic Chiu, Ron & Claire Rowe, Janine Leaman, Kyle Cassidy, Judy Loman, Mathias Ekert, Mark Huxsoll, Richie Hawley, Alex Hainen, James Clark, Elizabeth Steiner, Sonia Koval, Trey Havlick, Monika Mazurczyk, Lisa Overton, Tim Arai, Monika Vasey, Steve Lingo, Jonathan Fink, Ivana Tinkle, Jacob Farriester, Jim Sibbett, Allison Marcinczyk, Tony & Maria Weir, Andrew Balio of Future Symphony, Laura Torrano Jacobs, Christopher Ertelt, Melos Music, Clutzy, Lauren Miller, John Falcon, Nancy Lendrim, Elisabeth Hayes, Deb Boyajian, Joseph Garipoli, John Cantarino, Peter Wiley, Elizabeth Morgan-Ellis, James Sjoblom, Carol Ringenwald, David & Pam Fay, Rich Glazier, Mary Sue Welsh, Doug Changstein Didyoung, Nancy Benussi, Paul Pantanella, Boris Balter, Emily Palmier, Adrienne Knauer, Rita & Avram Woidislawsky, EH, Terence Chandler, Margarita Montanaro, Claire Odell, Laura Ann Barber, Jennifer Hainen, Dani Bash, Meghan Caulkett, John & Ana Maria Keene, Stephane Deneve, Jonathan Stiles & Martha Chamberlain, Angela Biggs, Todd White, Emily Klein, David Crookston, Roxanne Odell, Allison Austin, Joo Hee Kim, Thomas, David Gerhold, Nadia Pessoa, Margaret Graham Sprague, Melanie Hainen Burghgraef, Karlinda Caldicott, Robin Gordon-Cartier, Clothilde Giacomoni, Eileen Weinberg, Anna Marie Petersen, Allison Reese, Anna Odell, Jason Chang, Debra Lew Harder, Sally Hainen, Evelyn Harpham, Cecile Schoon, Kate Hall & Danny Dannenbaum, Marian Shaffer,  Bart V. Leeuwen, Richard Geisinger, Peter Benoliel & Willo Carey, Alisa Coffey, Antoinette Garrison, Robert Green, Howellann O'Brien and  Denise Knauer.