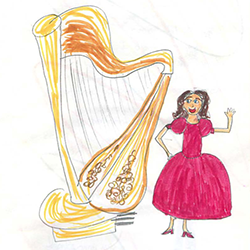 Presentations, Performance Demonstrations and Masterclasses offered in a hand-tailored, accessible format for children and young adults
GLISSANDO was originally established as part of Ms. Hainen's nonprofit, The Lyra Society, to acquaint and excite young people with the harp. Over the past few years, she has developed and maintained a partnership with the Philadelphia Public Schools that provides instruments and private lessons to students.
GLISSANDO maintains the conviction that music nurtures the human spirit, promotes personal growth, and is central to learning and the creative process. Music and the arts are as essential to a well-rounded education as literacy, math and science. GLISSANDO offers its programs as a means of using music as a language through which to speak and help build bridges within local communities.
Program Summaries
(Programs can be tailored for elementary or middle/high school)
Debussy's Harp
In 1889 a World's Fair was held in Paris where French composer, Claude Debussy, first heard Javanese gamelan music. Chouchou and Cosmo assist Monsieur Debussy on his quest to incorporate this exotic Far East sound in his new commission for the Pleyel Music Company. The story will culminate in a performance of Debussy's Danses.
Pluck goes the Harp!
This program explores the harp's heritage and history throughout the world by weaving a musical timeline from the beginning of the human race. Students will explore a variety of sounds and colors produced on the harp and have the opportunity for a hands-on demonstration.
If you are interested in GLISSANDO please contact:
The Lyra Society
Elizabeth Steiner, Director of Education
Phone: 206-295-8113